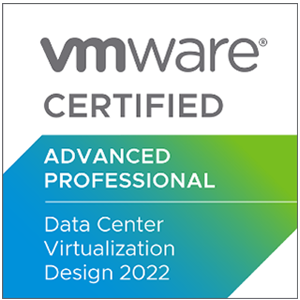 In February of 2022, I attempted and passed the exam for the VCAP-DCV Design 2022. This was my second attempt at a VCAP Design exam, with the first one being the VCAP-DCV 6.5 Design. In this blog post, I will talk about my preparation for the exam, what I focused on, what my experience was like, and some exam tips.
The VMware Certified Advanced Professional - Data Center Virtualization - Design 2022 (quite a mouthful, isn't it?), more often known as the VCAP-DCV 2022 Design certification, as per VMware, validates that you have advanced knowledge of end-user computing environments and components, and are able to recommend and design VMware solutions to meet specific goals and requirements.

Lets break this down further.
In 2017, after passing the VCP6-DCV and the VCAP6-DCV Deploy, I had set my eyes on getting the VCIX certification, which meant I then needed to pass the VCAP-DCV Design exam. At that point, having worked as a TSE for VMware GSS for about a year, I was very comfortable with a lot of the troubleshooting aspects of vSphere - knowing where to find what in the vSphere Client (yes the old vSphere 5.5 Windows Client!) as well as the Flash Client, and how to configure various things, both simple and complex.

What I did not know - was pretty much anything related to designing and architecting an environment - what considerations one has to take, factors and nuances involved etc.

So to bridge that gap, I first took the vSphere 6 - Optimize and Scale class. While this was not a hard requirement for the certification, this 5 day instructor led class helped me a lot with getting a much better understanding of what is involved in building an optimal design for any given requirements. It got me thinking about the bigger picture of what goes into architecting a site, and how the vSphere components play into it.

With that knowledge, I then set out to reading a lot of blog posts about other people's experiences with taking this exam, and fortunately that was enough to help me clear the VCAP6-DCV Design.

Fast forward to 2022 - Having been at VMware for 6 years and now being an Escalation Engineer - I was in a much better position to tackle the VCAP Design 2022.
Sources I used for the VCAP-DCV
This time, in terms of study material, I primarily used these two sources:
https://www.jeffreykusters.nl/2018/06/25/breaking-down-the-conceptual-design-rcars-and-amprs-vcdx-style/
https://technicloud.com/2018/08/07/visualizing-the-conceptual-model-for-it-architecture/
These two articles gave me everything I needed to refresh the basic understanding needed to clear the VCAP Design exam (provided you have already worked extensively worked with the vSphere suite)
Here are my key take-aways of what you absolutely need to know and understand for the exam:
Conceptual Design, Logical Design and Physical Design
Conceptual Design = WHY a system is being built
Logical Design = WHAT is being built for the system
Physical Design = HOW the system is being built
The conceptual Design constitutes the following:
Requirements - Functional and Non-Functional requirements
Constraints - Limitations of the design and specified elements that are not negotiable
Assumptions - Design elements that are uncertain
Risks - Potential detriments that can affect the success of the system
Functional vs Non-Functional Requirements
Functional requirements = WHAT functionality should be delivered
Non-functional requirements = HOW a system should behave
Non-functional requirements include the following design qualities:
- Availability
- Manageability
- Performance
- Recoverability
- Security
Realistically, that was my primary revision for the exam, and considering I passed the exam in my first attempt with a decent score, I would say it was the right call.

Understanding those key ideas helps to break down and solve most of the questions in the design exam.

Speaking of questions - the exam format is single & multiple choice questions, with a total of 60 questions. The exam duration is 150 minutes, which gives you an average of 2.5 minutes per question. That being said, some questions will take barely a minute to read and answer, while some others will require spending a couple of minutes to just understand the question before you can even begin to attempt to answer it.

You can read more about the exam format here: Exam 3V0-21.21 : Advanced Design VMware vSphere 7.x

All in all, I was able to complete a first pass of all the questions in about 120 minutes, leaving me about 30 minutes to go back and revisit all the questions I had marked for review.

In terms of difficulty - since I am more of a hands-on person and deal with actual real world technical issues on a day-to-day basis, the Design exam was harder for me as compared to the Deploy exam, so with that I would personally rate it 6.5 out of 10.